The whole world held its' breath when Cape Town threatened to fall dry last year. But who could have imagined that a country like Sweden only one year later turned into a dry savannah, plagued by forest fires. Or that in The Netherlands most of the rivers have changed into small streams, winding through a yellow and withered landscape.
Europe and many other parts of the Northern Hemisphere have been affected by high temperatures and drought with conditions of apocalyptic proportions. Records continue to be broken, multiple times, everywhere.
Warm air is capable to contain more water. The total amount of rain decreases with increasing temperatures. But while storms are weakening, convective rain cells are intensifying. When the floodgates of  heaven open the showers only give temporary relief. The damage in The Netherlands is calculated in years, and a drought period next year will have cumulative consequences. The salty water of the North Sea flows up the low rivers and below the dunes to reclaim its territory.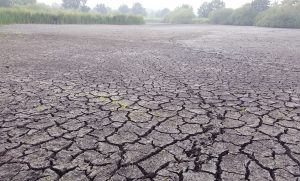 We have not seen better climate conditions for harvesting water from the air than before now. More drought means more sunshine (free energy) and higher temperatures mean more available water to harvest. We already predicted these developments for more than a decade and since 2010 we have gained enormous knowledge about optimizing the "water from air" technology. Probably in the upcoming months we can leap the final hurdles and present our technology to the market.
In my personal view it is 5 past 12, but we still have options for the future of this planet. My motto has never changed: "embrace your enemy". As the climate changes, we will have no other option left but to use most of the changes to our advantage.